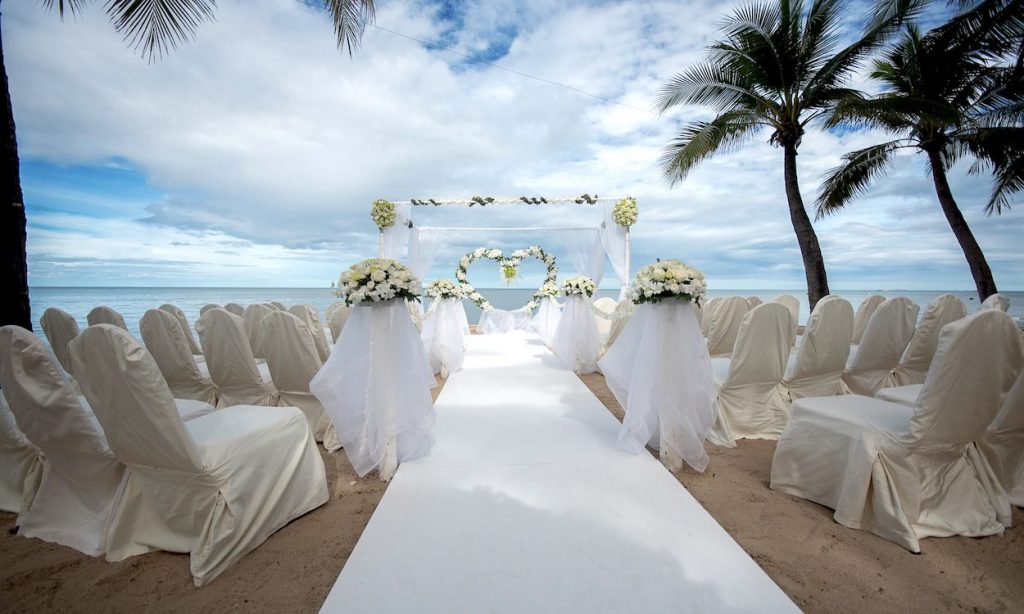 Goa doesn't need any introduction, does it ? Goa has always been a hot favorite wedding destination for couples in India and overseas. The serene beaches, scrumptious food, picturesque beach hotels, and throbbing night life, makes it a perfect wedding destination. You can not only have a memorable wedding here but also have a mini honeymoon with your loved one. Goa has a number of beautiful beach properties right from stunning Resorts to the finest 5 star hotels to turn your dream beach wedding into a reality.

Goa is well connected by air and by road to all metro cities in India. The best months to have a destination wedding here is from October to April. The monsoon season in Goa begins from the month of June and usually ends by September. Goa is divided into majorly two parts, North Goa and South Goa. All major tourist attractions are in North Goa. North Goa is more crowded compared to the southern part of the state. You will find all famous tourist spots and night clubs at beaches like Baga, Calangute and Anjuna . South is more peaceful and you will find many scenic 5 star properties here.

Lets have a look at some of the most popular wedding venues in Goa


Holiday Inn

Location: Mobor Beach, South Goa

Holiday inn is one of the favorite wedding venues in Goa. Its attractive interiors are adorned with a combination of traditional Goan Architecture, contemporary design and luxurious finishing. You can have your dream beach wedding here as it has direct access to the spectacular beach. Holiday Inn is a well known for its hands on hospitality and delicious food. They also have expansive beachfront lawns to create a perfect fairytale wedding for you.

Zuri White Sands

Location: Salcete, South Goa

Zuri white Sands is one of the sought after luxury beach resorts in Goa. It is located on the picturesque Varca beach.The hotel is an epitome of class and luxury. It is a true reflection of everything Goan, from the party atmosphere, beautiful beaches and flavorsome food. It is spread across sprawling 37 acres with spectacular sea facing Goan style luxury rooms. It is a perfect venue for your picture perfect dream wedding.

Kenilworth Beach Resort

Location: Uttorda beach, South Goa

Kenilworth beach resort offers 5 star luxury services and is rated amongst the best leisure hotels in Goa. Small gatherings can be catered in their meeting room, while more informal parties can be held by the poolside overlooking the beautifully landscaped outdoor pool. They also offer well-designed banquets for your other functions. They also have a lounge that can host your after parties. Weddings can be hosted on their sea front lawn and beach wedding lawn having sun and the beach as your backdrop. Beach weddings are also possible here as this property opens up straight to the pristine and surreal Uttorda beach, One of our favorite beaches of Goa. This resort has wide variety of venues to choose from for all your different functions. If you are looking at a luxurious experience, This one's for you!

Planet Hollywood Beach Resort,

Location:Uttorda beach, bounded by Majorda Beach on the South and Cansaulim Beach on the North.

The moment you enter Planet Holywood, you will be welcomed by a never seen before interiors with a Hollywood theme incorporated. This place designed by Gauri Khan has such magical feel to it, you will feel nothing less than a star yourself. The star-studded lobby bar has been designed so beautifully, you would definitely not leave that place without tons of selfies. They have incorporated the Hollywood theme in the rooms as well, which will surely leave you mesmerized by the beauty of the interiors. The rooms are also endowed with a mood lighting feature.

You should consider this 5 star resort for your wedding if yourlooking at being surrounded by luxury and glamour.  It offers a completely unique and unconventional experience. Planet Hollywood left us speechless with its stylish and classy interiors. Hope it will impress you too.

Grand Hyatt Goa

Location: Bambolim, North Goa

Grand Hyatt Goa is centrally located between North and South Goa. It redefines luxury and overlooks the stunning waters of Bambolim Bay. It adorns a blend of spectacular views of the waterfront and grandeur of the 17th century Indo Portuguese Palace. They take pride in being one of Goa's largest and most Sophisticated luxury wedding venues.  If you are the one who is looking to have a luxurious and extravagant affair in Goa, This is the perfect wedding venue for you.
Have a look at other Popular Wedding Destinations