Check out how we planned this trend setting Goa Destination Wedding in a month !
The Couple
Shalini and Sarvdaman is a match made in heaven. Shalini is a South Indian girl while Sarvdaman belongs to Himachal Pradesh. She is fierce, free spirited, strong headed, and a fashion fiesta. Sarvdaman is a self-made man with strong values, a man of few words who loves to pamper his ladylove. They both are driven by love and passion, are avid travellers, love to live life to the fullest and believe in making the most of every moment. They are truly madly deeply in love with each other and their love and affection for each other is an inspiration for others. Their life seems like a story out of a fairytale just like their wedding.
When we met them for the first time we knew this Goa Destination Wedding was going to be a different and unconventional wedding with the flavor of traditions from both South and North India. That's why we decided to call this a 2 State wedding.
So what makes this Goa Destination Wedding a trend setting and a fairytale wedding?
To start with our couple just one fine day decided to tie the knot and set a date for just a month later!!
And decided to have a Goa Destination Wedding.
They had the most prestigious, Luxurious and picturesque venue in Goa as their Destination wedding venue- Taj Fort Aguada Resort & Spa and Taj Holiday Village.
This was a blend of modern and a traditional wedding, which saw traditions from both South and North India.
There were four functions planned. Haldi, Mehendi, Wedding and the Wedding Reception with offbeat décor themes.
The entire wedding was planned in just One Month! Yes, you heard it right.
Property visits, Booking of wedding vendors for all functions, designing and conceptualizing décor themes and ideas, Trousseau shopping and guests' travel planning everything in one month.
All guests were travelling from different parts of the country and bringing all the planning together in just one month wasn't an easy job. But we love challenges and we are so proud and happy to share that not only this Goa Destination wedding was a grand success but have been breaking the Internet from the time the first picture was out.
Wedding Logo
Their Wedding logo was not any ordinary logo. It was a cute caricature artwork that had the couple's portrait and said 2 States One Love. This logo was incorporated in all the wedding collaterals like Wedding itineraries, hampers bags, Thank you tags, welcome boards etc
Wedding Functions and Wedding Décor
We wanted to design something unconventional and extraordinary yet keep it cozy and intimate for the décor. The idea was to bring the couple's style and personalities into all the details of the wedding.
Haldi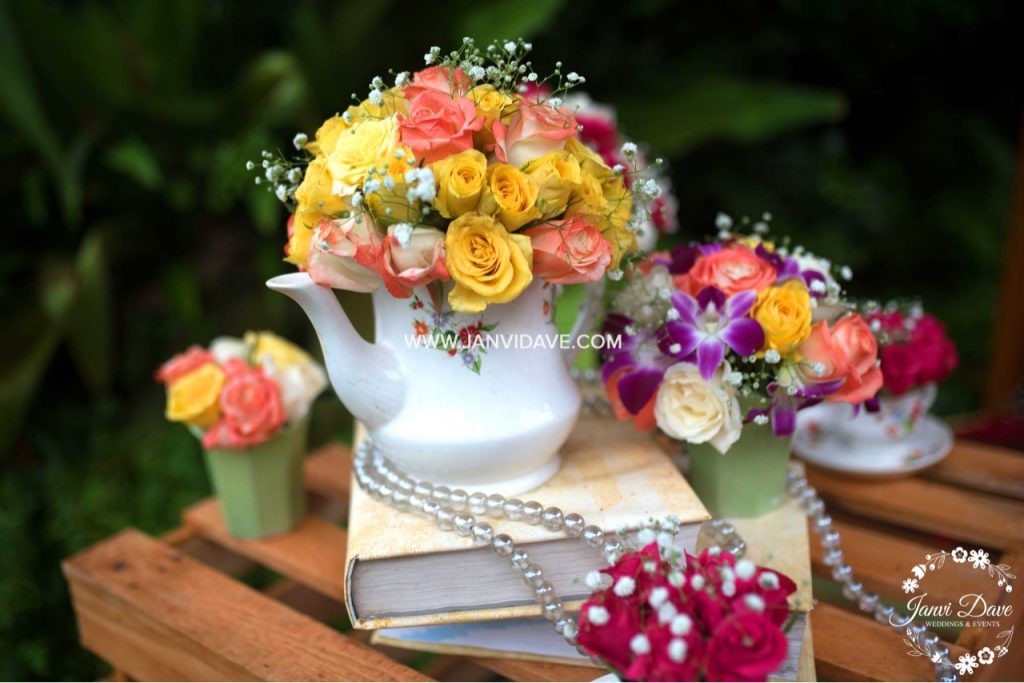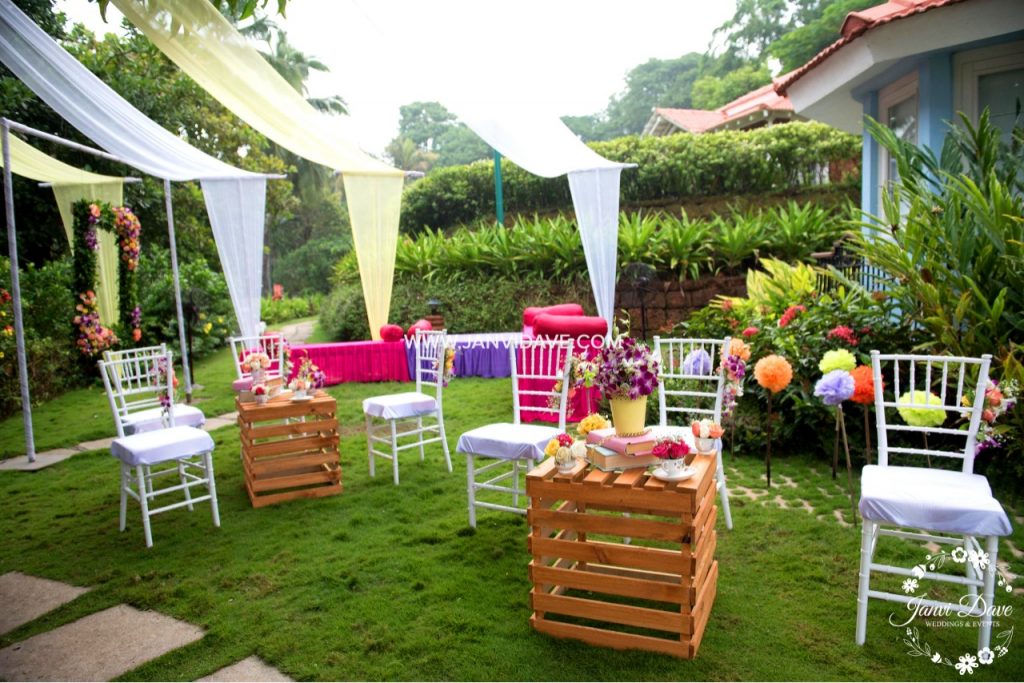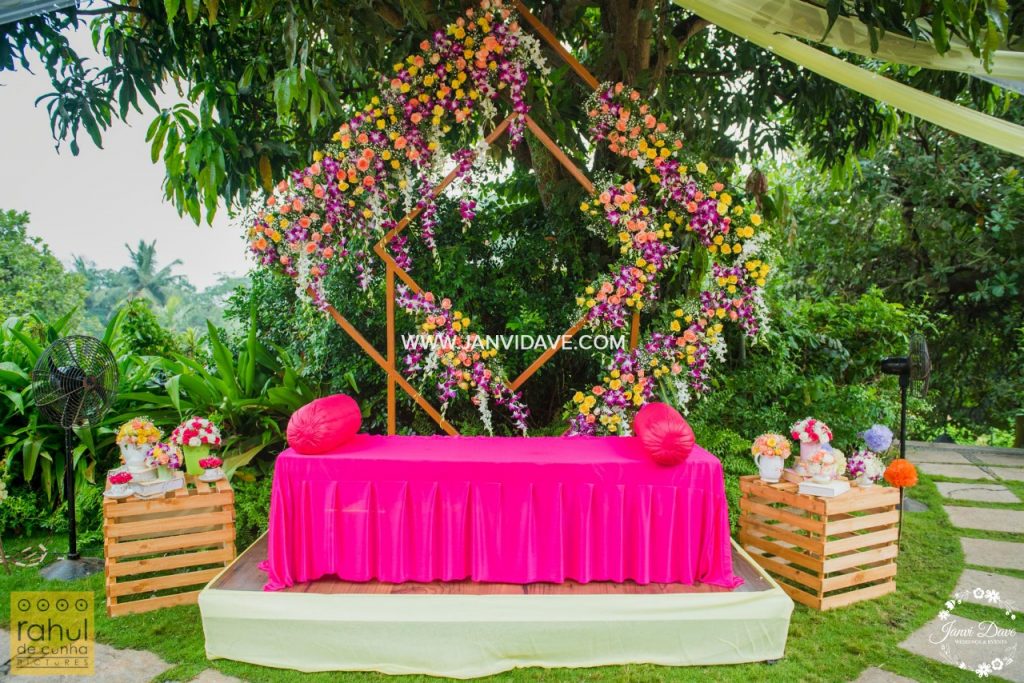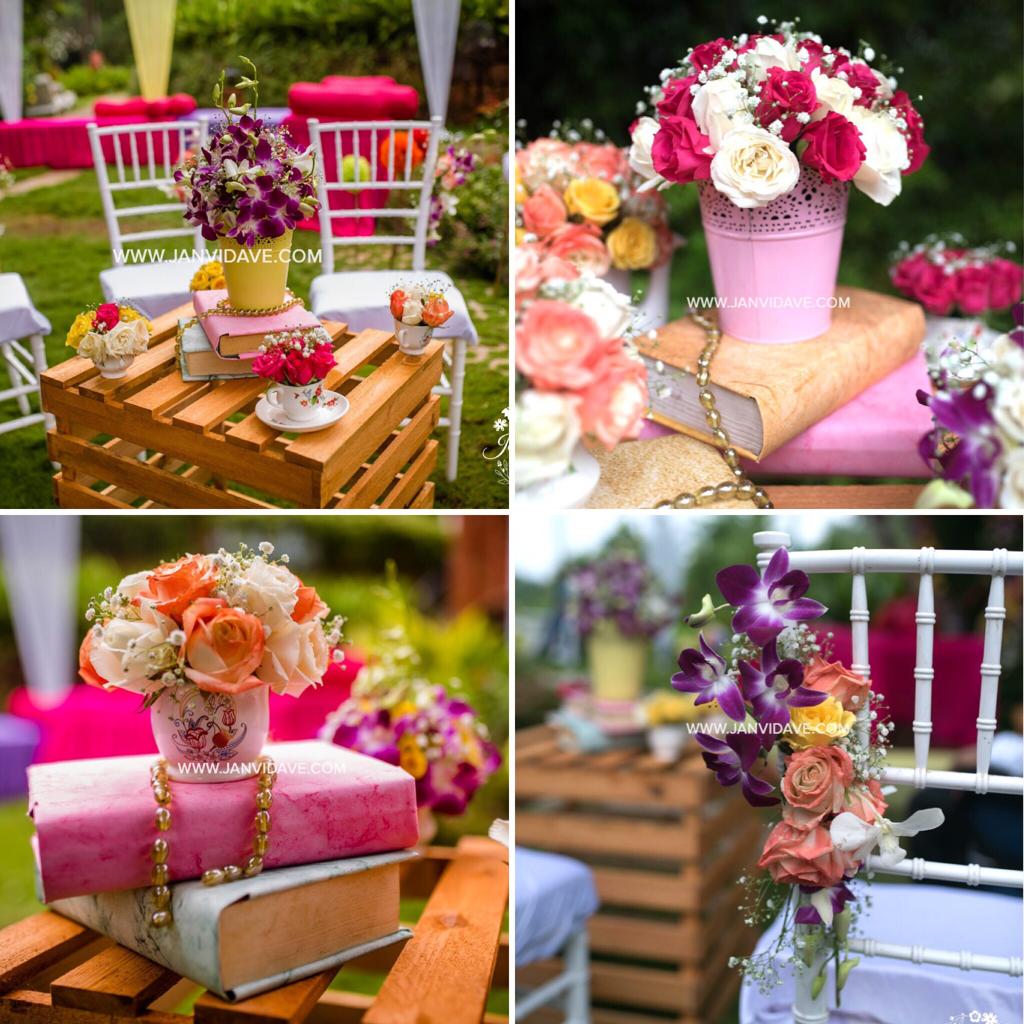 Our first wedding function was the haldi. The idea was to do away with a traditional look, which is usually followed for a haldi ceremony. We designed an Enchanted Garden theme for the haldi with an unusual color palette of purple and orange. The backdrop for haldi was a-never-seen-before diamond shaped one, filled with purple orchids and coral roses. No marigolds no traditional props. Instead we used cups, saucers, and books as props. And the result! Everybody just loved and adored the theme and almost every wedding site featured it.
Mehendi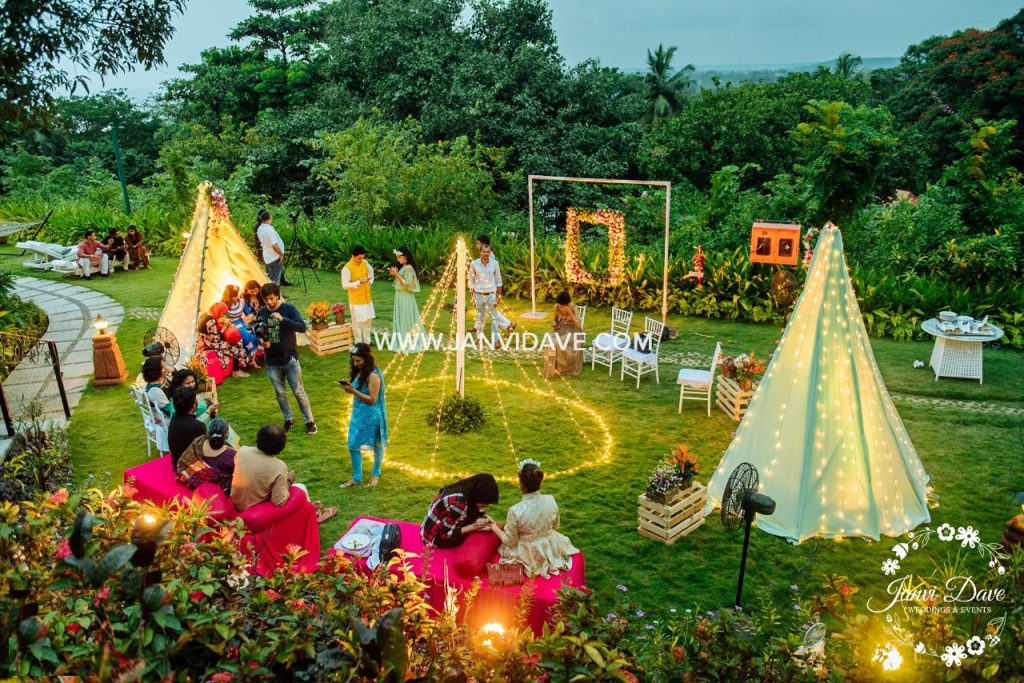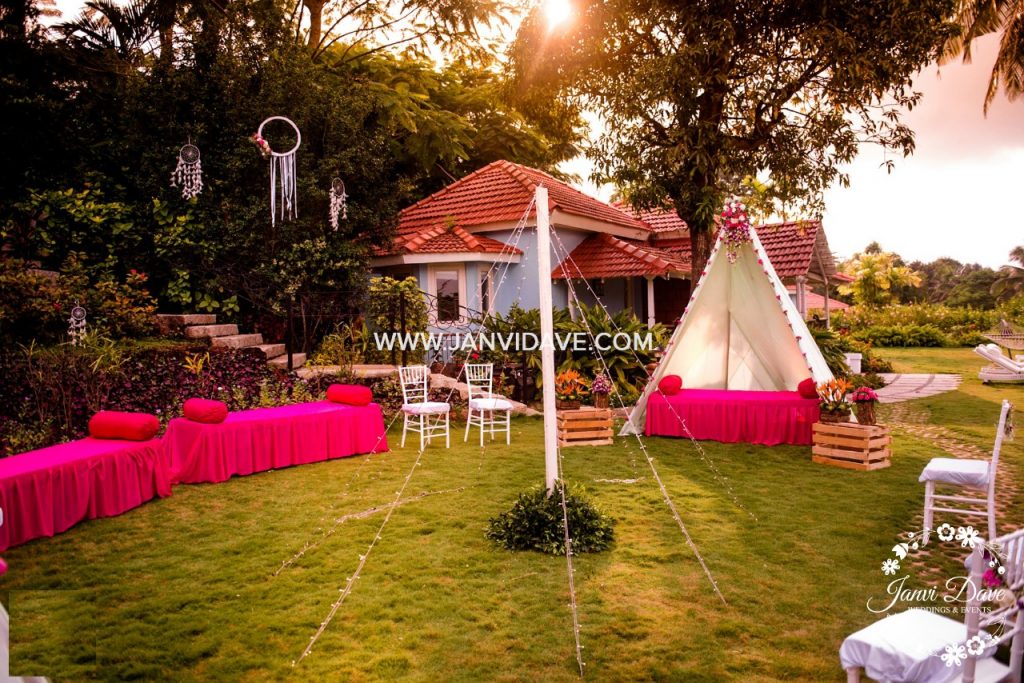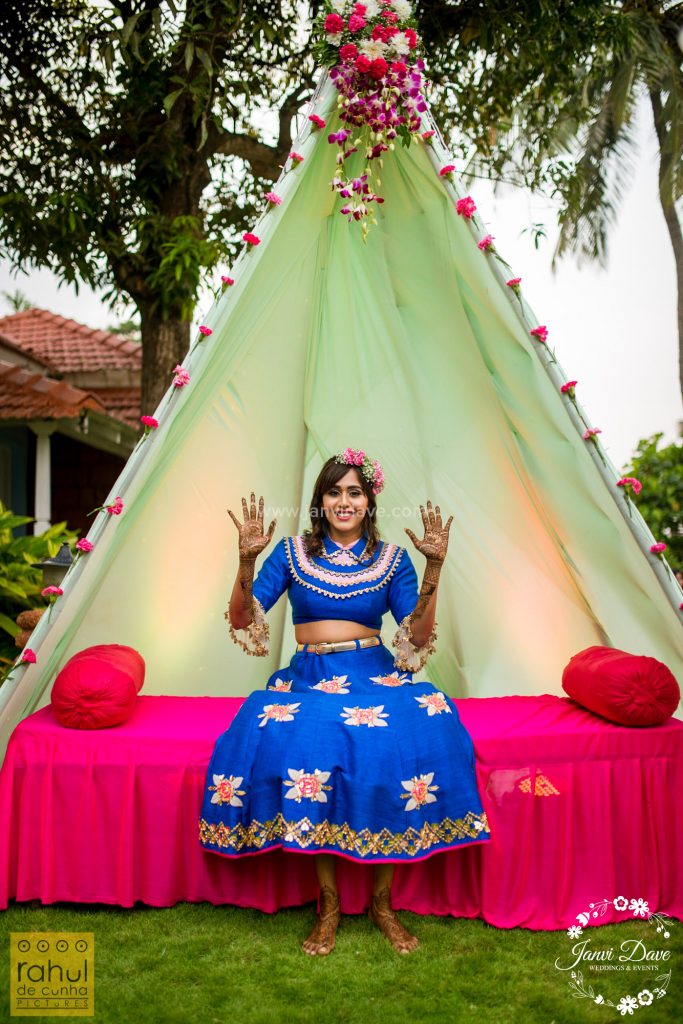 Our next wedding function was the Mehendi. It was an intimate gathering. So, we designed a bohemian theme, installing Teepees with lights, used some dreamcatchers to accentuate the theme, and what we personally loved was, we like to call it a 'bonfire of lights'. It was a collection of fairy lights in between two teepees, which looked like a bonfire. We used a color palette of Mint green and pink for this cozy romantic Soiree. It turned out totally dreamy. We also dolled up our bride and bridesmaids with fresh flowers and color-coordinated tiaras to match up the bohemian theme. This set up was one of our favorites.
D-Day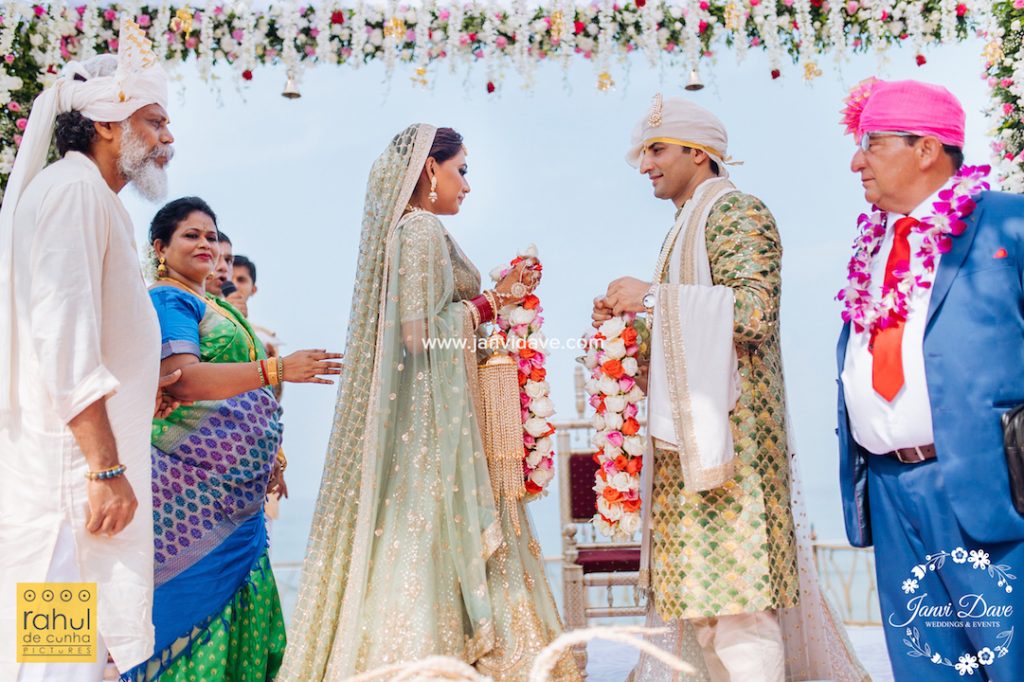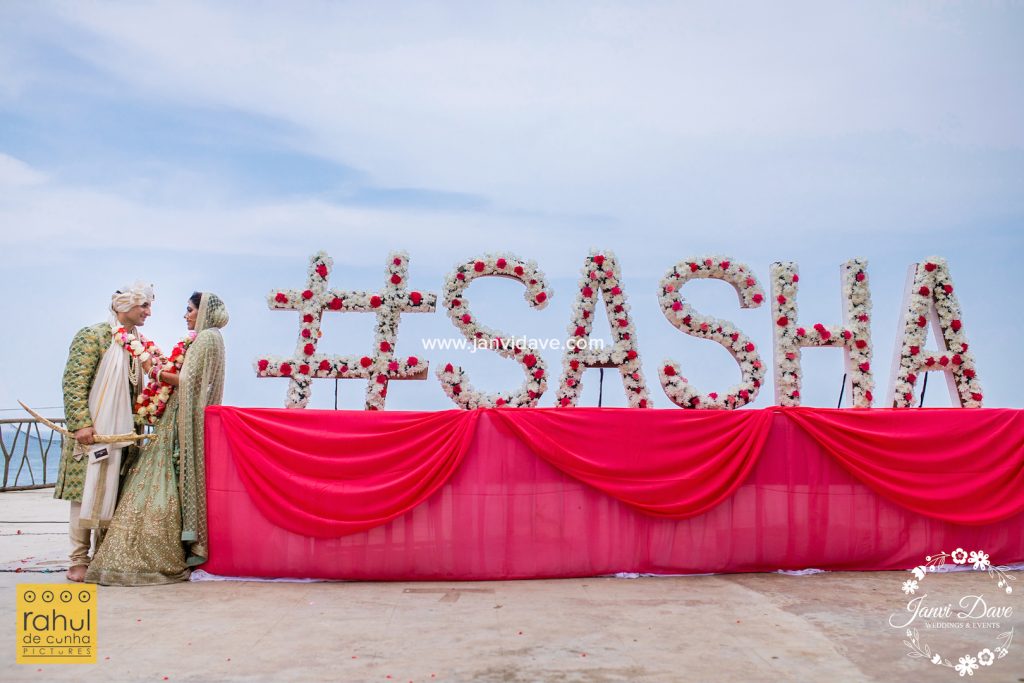 The next day was the wedding ceremony. As the themes at other functions were unusual and offbeat, we wanted the Wedding to reflect Indian traditions yet keep it contemporary. We decided to use a lot of kaleeras and bells. Bells signify purity and are considered sacred in Hindu religion. The sound of the bell also creates a holy and soothing atmosphere. They were extensively used in the mandap as that's where the holy ceremony takes place. Not only the entrance and mandap were decorated with kaleeras and bells, we also used it on the Phoolon ki chaddar used for bridal entry. While our gorgeous Bride Shalini was making her entry with a holy mantra playing as the background score, the bells kept ringing making the atmosphere totally magical. Our bold and beautiful bride chose to wear Gucci sneakers for her wedding and she totally rocked the look.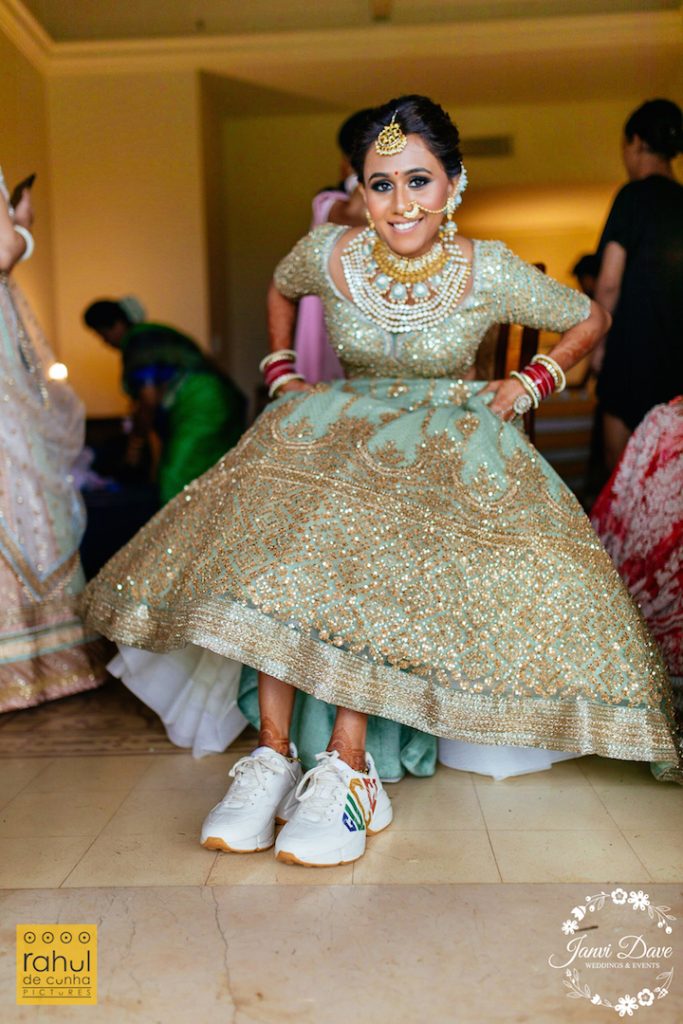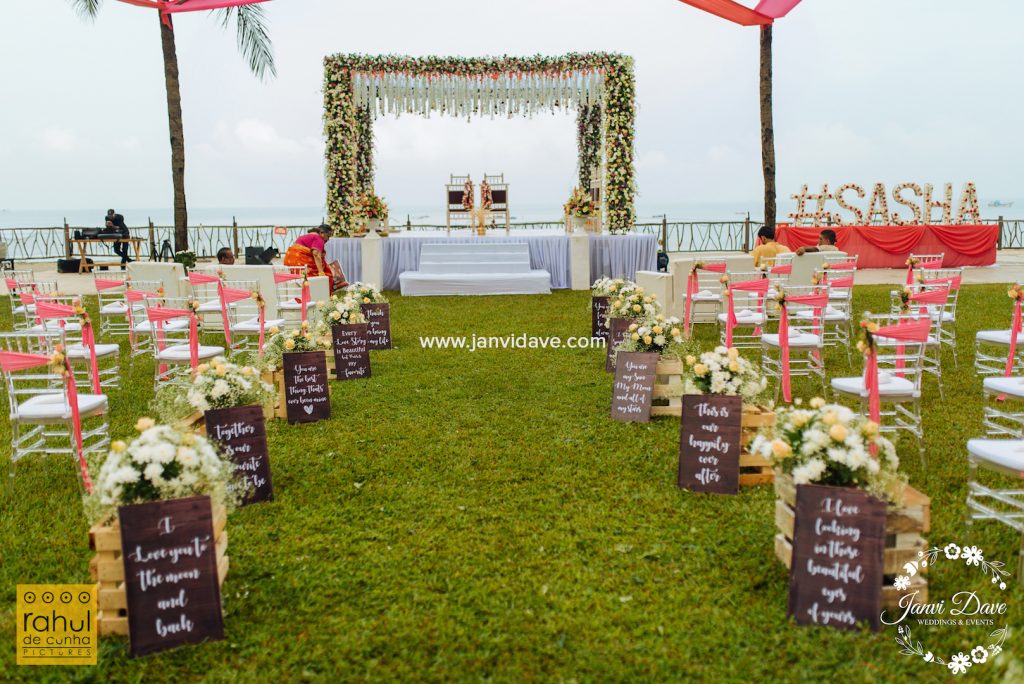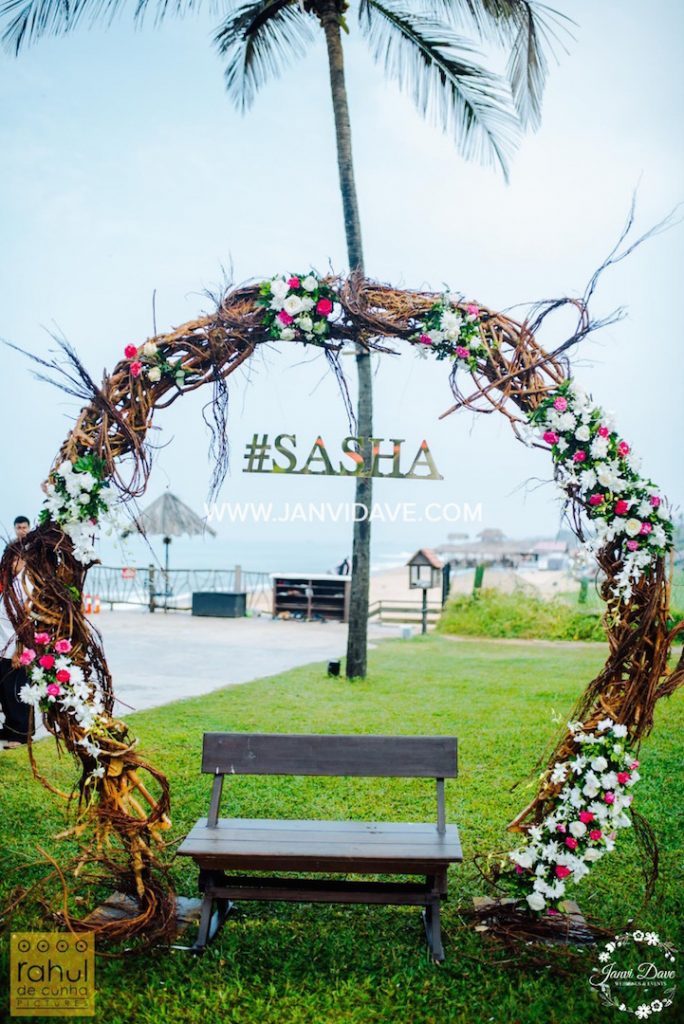 The venue for the wedding was mesmerizing and a visual treat. It was a sea-facing venue with a huge lush green open lawn. We wanted to make the most of the huge space provided to us. Apart from the entrance, mandap and aisle décor, we had five other Photo Booth installations. It kept the guests engaged and also gave them pictures to cherish for a lifetime.
As the guests were from Himachal Pradesh, they all performed famous Nati dance from that region. This dance is also listed in the Guiness book of World Records as the largest folk dance. We were amused and amazed to see how beautifully they all performed this folk dance. No wonder the video of the dance at the wedding went viral and got more than 1,50,000 views in just a week.
Wedding Reception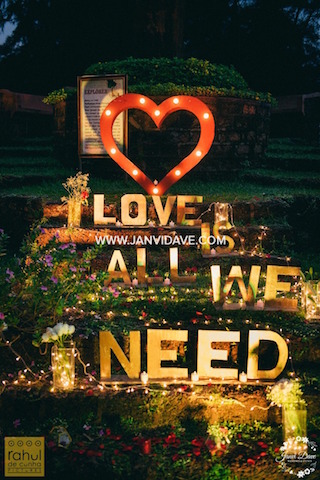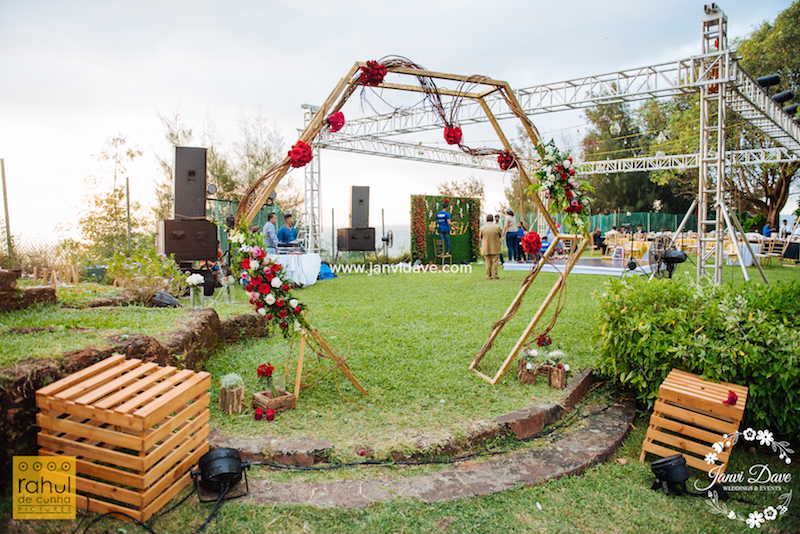 For the wedding reception we had a venue on a hilltop with a stunning Sunset view. We chose a modern and chic Geometric Theme for the reception. We chose to have the décor in rustic colors and used lots of red roses to elevate the earthy color. We custom made all the décor elements in just 15 days. The entrance was a hexagonal shaped arch adorned with roots and red roses with some original tree bark props. As our couple did not want any stage set up and wanted to meet all the guests personally. We installed two photobooth/ backdrop in a geometric shape. We used a lot of terrariums of different shapes and sizes filled with some candles and rose petals. There was an empty corner, which couldn't be used for anything. So, we decided to turn that space into a beautiful customized installation which said 'Love is all we need" with rose petals, candles and fairy lights which elevated the whole look of the venue.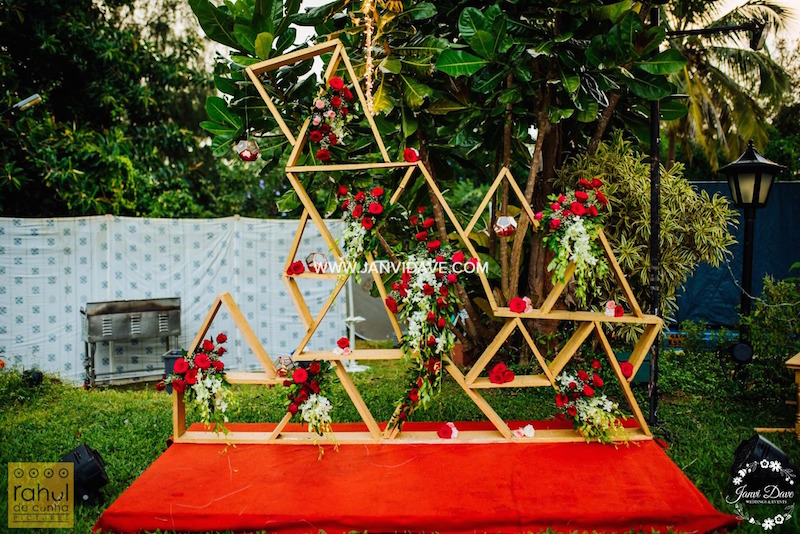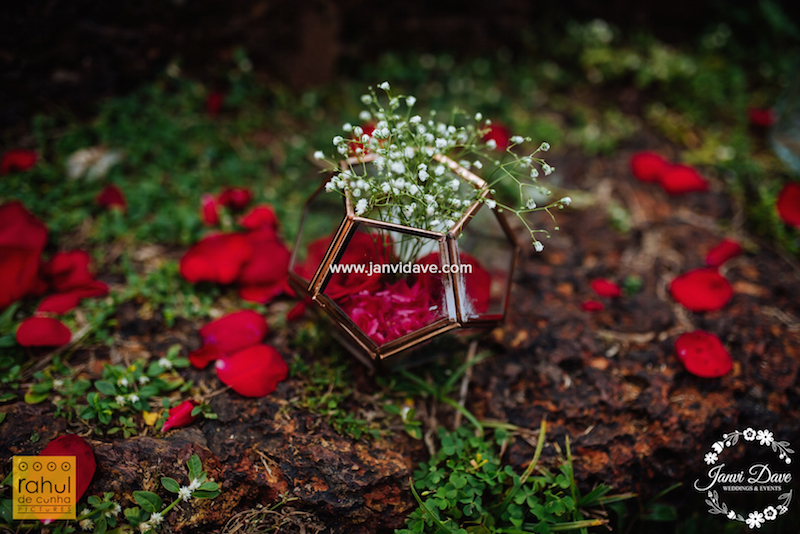 The reception had the couple pop the champagne and had their first dance, which was so romantic and memorable.
Wedding Favor
The guests were given flavored nuts in ethnic potli bags along with customized Thank you tags as wedding favors.
Doesn't this all sound so dreamy and straight out of a fairy tale? No wonder this wedding has been receiving accolades ever since we have been out with the pictures and videos. Right from the venue, the wedding décor, bride and groom's stunning outfits to the impromptu Nati dance performed at the wedding, everything has been talk of the town. Our couple's trust in us and their super cool attitude made this wedding extraordinary, a wedding that will set trends for many weddings to come.
We have lived our couple's dream along with them. We love and cherish every moment spent on planning this wedding.
Call us to make your fairytale wedding a reality.